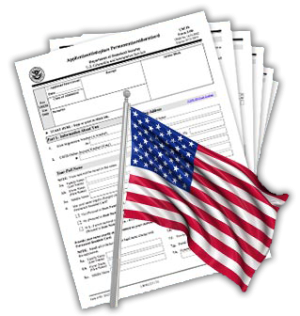 Safe and secure online do it yourself immigration software
Easy to understand instructions
Eligibility check before starting your application
Helpful tools to prepare and file your application correctly
Print ready application ready to mail to the USCIS
Peace of mind
Prepare Your USCIS Form I-751
Form I-751 Remove Conditions on Greencard
Application Package $285 + USCIS Filing Fees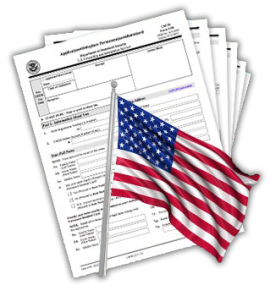 Form I-751 Remove Conditions on Greencard
Prepare your USCIS Form I-751 Petition to Remove Conditions on Residence with
Disclaimer: FileRight.com is not affiliated with USCIS or any government agency. We are not a law firm, do not provide legal advice, and are not a substitute for the advice of an attorney. We are a private company providing self-help services at your direction. If you are looking for blank forms, you can get them for free at USCIS.gov. Select filing packages include an Immigration Lawyer Review conducted by an independent, licensed immigration attorney.
What's Included in Your Application Package Service
Complete your application online using our easy to use immigration software.
Securely check your application using our Immigration Error Report technology.
Review entire application for omissions of key information.
Examine for typographical errors that might delay processing.
Confirm consistent spellings of names and places throughout the application.
Check for inconsistent, illogical or conflicting dates.
Review for obviously illogical entries.
Search for entries that conflict with each other.
Our software checks the information you provide against the eligibility requirements for the immigration benefit you're seeking, and notifies you if those requirements are not met.
Once you complete your application, we print, assemble and mail out your application package to you.
We include sticky notes on where you need to sign and date your application.
Service includes a pre-paid envelope for you to mail your completed package directly to the USCIS for processing.
We mail your application package via USPS
Remove Green Card Conditions Form I-751
What is a conditional green card?
A conditional green card is a 2-year green card sometimes given to people who get a green card through marriage. These green cards cannot be renewed. Instead, before they expire, you must apply to have the conditions on your residence removed using Form I-751. If this application is approved, you will receive a non-conditional, 10-year green card.
Can I renew my conditional green card?
No. Conditional green cards cannot be renewed. Instead, you must apply to remove the conditions on your green card using Form I-751. If your application is approved, you will receive a 10-year, non-conditional green card.
How does FileRight help me Petition to Remove Conditions on My Green Card?
FileRight will walk you through each and every application question, providing helpful explanations along the way. We also have a bilingual (English and Spanish) customer support team available to answer your questions about FileRight. Our technology checks your application for errors and provides you customized filing instructions, letting you know where to send your application and what documents to include with it. We're so confident in FileRight that if your application is denied, we'll refund your money — including government fees!
USCIS Filing Fees to Apply to Remove Conditions on Residence
FileRight application package preparation fee is $285
USCIS filing fees to file Form I-751 is $595 plus a biometrics fee of $85, if applicable.
USCIS won't refund your money, even if your application is denied. We'll help ensure your application is correct and complete.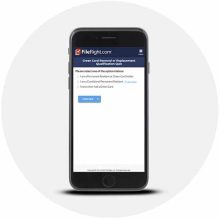 Step 1 - Eligibility Quiz
See if you are eligible to use our application preparation Software.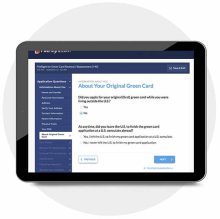 Step 2 - Prepare Your Application​
Save your progress and purchase your application filing package.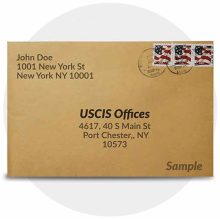 Step 3 - Print & Mail Your Application
Print, Sign and Mail Your Completed Application to the USCIS.