Suppose you met the love of your life and traveled to the United States to get married on a K-1 visa. With this nonimmigrant visa, your entry into the U.S. is conditional on your intention to marry your citizen fiancé(e) within 90 days. But what happens once you've met this condition?
It's crucial to take steps toward acquiring a lawful permanent resident (LPR) status immediately after you get married. This is how you get a U.S. green card and are allowed to live and work in this country permanently.
What Form Do I Need to File to Get a Green Card?
The form used to adjust your status from K-1 visa holder to green card holder is Form I-485, Application to Register Permanent Residence or Adjust Status. This process replaces the temporary permission you have to be in the U.S. with the right to stay here long-term.
On this form, you will provide the USCIS with the following details:
Basic biographical facts like your name and birth date
Your current and former addresses
Information about any previous marriages and divorces
Your immigration and employment history
Information about your parents and children
Criminal record, if any
When Should I File My Form I-485?
Your K-1 visa issued by the U.S. Department of State gives you the right to be in the U.S. for 90 days. If possible, you should submit your petition to adjust your status within that time frame. If you fail to do so, you could potentially lose your immigration status and be forced to leave the country.
Even if you missed this deadline, the USCIS permits you to file your Form I-485 later if your wedding occurred within the 90-day window. However, to avoid complications, it is best to file your Form I-485 as soon as possible after you're married.
How Do I File My Form I-485 to Adjust Status?
To properly file an I-485 with the U.S. Citizenship and Immigration Services (USCIS), you'll need to:
Complete the form correctly. There should be no blank fields, no typos, and no conflicting or inaccurate information.
Have your sponsor complete form I-864, Affidavit of Support. This reassures U.S. officials that you will be supported financially and are not likely to rely on welfare or other public benefits for support.
Assemble your application package with your supporting documentation, which could include copies of your marriage license, photo ID, and birth certificate.
Pay the associated fees, which typically include a $1,140 USCIS filing fee and an $85 biometrics fee for a total of $1,225.
Mail your application package to the USCIS. The address you use to submit your I-485 will depend on what state you live in and whether you use the United States Parcel Service (USPS) or another carrier to deliver it.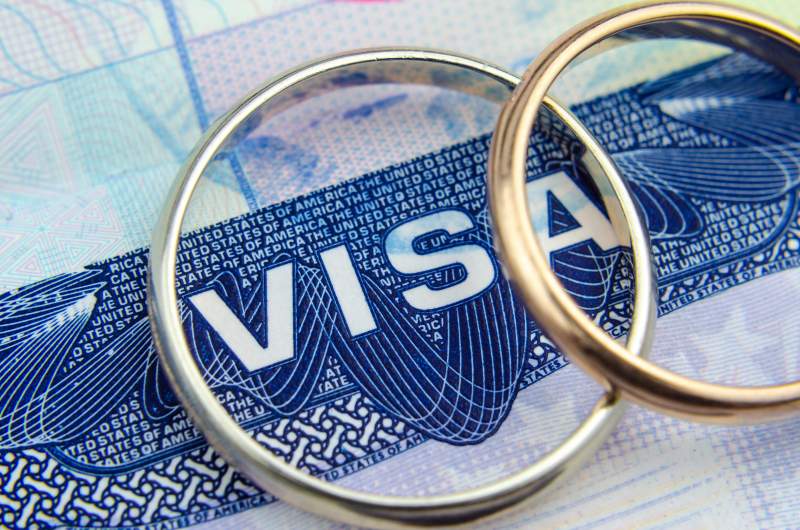 How Long Does It Take to Get a Green Card After My K-1 Visa?
From applying for your K-1 visa to receiving a green card, the entire process can take a year and a half or so.
First, you will need to wait for your K-1 visa, which could take up to a year
Then, once you are in the U.S., it could take another four to six months for the USCIS to process your I-485 application and issue your green card
After you mail your application package, the USCIS will call you in for an interview and biometrics exam. USCIS officials will be seeking to confirm your identity, verify the information you provided on your application, and confirm the validity of your marriage.
If your application is approved and your interview is successful, The USCIS will mail you a conditional green card. This card allows you to live and work in the United States for two years. After the two years are up, you can have the conditions removed to receive a regular 10-year green card.
Start Your New Life Today With FileRight
Complete your green card application to adjust your K-1 visa status today with easy-to-use online software from FileRight.com. We'll walk you through the questions you need to answer and automatically fill in your form for you using the information you provide.
Our system removes the confusion and guesswork from your immigration paperwork from start to finish. We'll even assemble your documents and pre-print the appropriate USCIS address on your pre-paid envelope. Then, all you need to do is sign your name and send it off.
Find out if you are eligible to file Form I-485 by taking our Green Card Qualification Quiz today!