There are over 40 nonimmigrant status categories for U.S. visas. Each one is designated for a specific yet very different function. For example, some permit students to study in the U.S., some grant temporary work to employees, and others allow tourists to visit.
If the original reason you came to the United States changes, you may have to file a change of status with the U.S. Citizenship and Immigration Services (USCIS). This status change needs to happen before you start your new U.S. activities. Read more on how to petition for a change in your nonimmigrant status.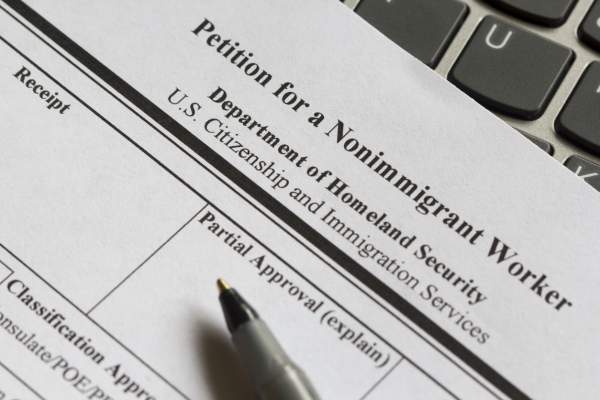 How Do I Know if I Am Eligible to Change My Status in the U.S.?
Several circumstances make you eligible to change your status in the United States. For instance, you can petition for a change of status with USCIS if you:
File online using the government's myUSCIS portal or apply by mail before the expiration date shown on the admission stamp on your I-94, Arrival-Departure Record in your travel document. The USCIS will allow a late submission under extremely limited circumstances.
Have no other factor mandating you to depart the U.S. before re-entering the country under a different immigration classification. For example, if a USCIS officer determined you needed to acquire a new visa before being allowed to re-enter the United States.
Have avoided engaging in any activity that would cause you to be ineligible for an immigration benefit.
Were admitted to the U.S. lawfully as a nonimmigrant.
How Do I Know if I Am NOT Eligible to Change My Status in the U.S.?
If you were allowed into the United States in any of the following nonimmigrant categories, you are not eligible to petition for a change of status:
C Transit visas
TWOV Transit without a visa
WT or WB under the visa waiver program
D Crewmember visas
K-1 or K-2 nonimmigrant visa if you're a fiancé(e) or dependent of a fiancé(e)
K-3 or K-4 specific spouses of U.S. citizens and their dependent children
S witness or informant visas
Additionally, if you were allowed to enter the United States in any of the following nonimmigrant classifications, your ability to request a status change may be restricted:
J-1 Exchange visitor visa holders who are subject to the two-year foreign residency requirement, though there are exceptions
M-1 Vocational students cannot change their status to an F-1 Academic student visa or any H classification (temporary or seasonal employment) if the vocational training helps them qualify for the H category.
You should be aware that if you belong to any of the categories above, the U.S. government will require you to leave the country upon expiration of your I-94, Arrival and Departure Record.
How Do I File a Petition to Change My Nonimmigrant Status?
The nonimmigrant status you want to change with USCIS will determine your application procedures and the form that you should use:
Nonimmigrant Categories That Are Employment-Based
Before the expiration of your Form I-94, you should file a Form I-129, Petition for a Nonimmigrant Worker, if you want to change your status to an employment-based nonimmigrant category.
Form I-129 serves a dual purpose to demonstrate that:
You meet the preconditions for status change. You are not allowed to start work in a new category until the USCIS endorses your status change.
You'll be executing the work type covered by your new nonimmigrant classification petition.
Each category places limits on how long you can stay in the U.S., plus other requirements. We recommend consulting with the employer who offered you temporary work or an experienced immigration attorney to learn more about these conditions. Employment-based immigration categories include:
E-1 and E-2 visas which are for treaty investors, treaty traders, and their employees
E-3, Australian skilled professionals
H-1B, H-2A, H-2B, or H-3 categories that cover unskilled or temporary workers and trainees
L-1A or L-1B, employees that transfer intracompany
O-1 or O-2 visas that cover individuals with extraordinary achievement or ability and their assistants
P-1, P-2, P-3 visas, which cover athletes, artists, and entertainers
Q-1 visa holders, which are international cultural exchange visitors
R-1, Religious Worker
TN-1 or TN-2 documents are held by Canadians and Mexicans operating under the United States-Mexico-Canada Agreement (USMCA) (formerly NAFTA, North American Free Trade Agreement)
Filing Form I-539, Application to Extend/Change Nonimmigrant Status
If your future employer files Form I-129 and your spouse and dependents want to change their status to continue as your dependents, they need to submit Form I-539, Application to Change or Extend Nonimmigrant Status.
You can submit your dependents and spouse under one I-539 form. Additionally, you should file your I539 and I-129 simultaneously so they can be ruled on together. However, because they are separate applications, you and your family must file supporting documents pertaining to each application, even if the forms are filed together.
Using Form I-539 for Other Categories
Use Form I-539 if you want to alter your status to one of these nonimmigrant categories:
A visas, for diplomatic and other government officials, their immediate family, and their employees
B-1 and B-2 visas are for individuals visiting for business or pleasure
E-1 and E-2 dependents of treaty investors, treaty traders, and employees
E-3 visa for dependents of Australian skilled professionals
F visas that cover students and their dependents
G covers foreign government officials, specific family members, and employees
H-4 visas for dependents of unskilled or temporary workers and trainees
L-2, a category that covers dependents of individuals transferred within a company
M, Students taking a vocation and their dependents
N visa for children and parents of particular people who were granted special immigrant status
NATO officials, representatives, employees, and their close family members
O-3 covers dependents of individuals with extraordinary achievements or abilities
P-4 visas for dependents of athletes, artists, and entertainers
R-2, religious worker dependents
TD, the visa category for dependents of Mexicans and Canadians working under USMCA
Remember that you can combine your spouse and any unmarried child under 21 years old requesting the same nonimmigrant category status change onto one Form I-539. When doing so, make sure you include any essential documentation with your application.
Where Do I File My Form I-539?
USCIS will allow you to file your Form I-539 online if you meet the following requirements:
You are only applying for yourself (i.e., with no co-applicants)
You won't need accredited or legal representation
You have student status and can apply to extend, reinstate, or change to specific status categories listed on the USCIS site.
You can also file your Form I-539 by mail with specific USCIS lockbox addresses that pertain to your visa category.
Can I File a Change of Status if My Authorized Stay Has Expired?
Typically, no. If your status expired before you filed a petition for change of status with USCIS, or breached your status terms, the United States government will consider you "out of status."
When this happens, the USCIS is unable to modify your standing, except in specific circumstances "beyond your control." If you fall out of status, you should plan to leave the U.S. to limit any negative impact on your ability to return to the country in the future or obtain other government benefits.
What if the USCIS Doesn't Decide Before My I-94 Expires?
Unfortunately, you are considered out of status when your Form I-94 expires, and your nonimmigrant status ends. Typically, the USCIS will wait until your application is adjudicated before it determines your status change request.
Despite this, the Department of Homeland Security (DHS) could still bring removal proceedings against you even if you have a petition for a nonimmigrant status change pending.
If your application for status change is granted, the change will correlate back to the Form I-94 expiration date. Therefore, the government will deem your status during the period you waited for application approval as lawful.
Conversely, if your change of status petition is rejected, you might have to exit the United States immediately. Furthermore, any nonimmigrant visa associated with your classification becomes void. You will have to apply for a new visa with your home country's U.S. consulate if this happens.
How Long Will It Take to Process My Petition?
USCIS application processing times vary depending on the office and workload. Check with your local field office or the USCIS website for their current processing times.
You should check the expiration date of your I-94 documents and plan to file a petition for status change with USCIS a minimum of 45 days before this date.
Will My Petition Be Approved if I Am Eligible and File on Time?
As you might guess, status changes are never automatically made. Instead, the USCIS will analyze your current status, your situation, your reasoning for seeking change to your classification, and why you didn't initially apply for this visa type before first entering the country.
After this, the U.S. government will decide whether to grant your petition or not. If they approve it, they'll also determine how long your stay will last in your new nonimmigrant category.
The USCIS claims it will only approve a status change where circumstances indicate a change is needed or for reasons that align with the terms of the petitioned status.
File Your Change of Status Petition With FileRight
Prepare your Form I-129 and Form I-539 with FileRight using our safe and secure online software. Our proprietary software will give you peace of mind that you've completed the forms correctly and have included the correct supporting documents. Plus, we provide crystal clear instructions and helpful tools along the way.
There is no risk. If your petition for change of status is rejected by USCIS, we'll refund our fees, along with any government fees you paid. So, to begin right now, take our nonimmigrant status qualification quiz.