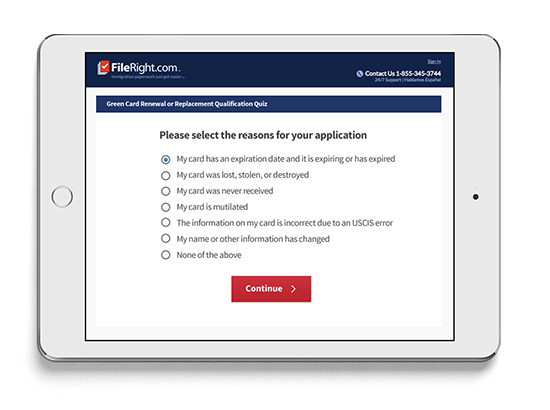 The FileRight.com eligibility quiz is where all of our customers start their individual process. The point of the quiz is to first determine if you can apply for the immigration benefit you would like to acquire.
The quiz is very simple, free and can be completed in just a few minutes. There are no right or wrong answer but you should answer the questions honestly to avoid headaches in the future.
If you are eligible, you will be guided through the application process in a step-by-step way. The FileRight.com software will be checking for mistakes or problematic entries along the way. The goal is to make sure you file right.
Immigration attorneys help build the software and created the eligibility quiz. It should give you the confidence and peace of mind knowing that immigration attorneys have overseen every question being asked.
Each quiz is different and the questions depend on what type of immigration benefit you're looking for. It could be green card renewal, citizenship or any of the other packages offered by FileRight.com.